ARTILLERY POSTCARDS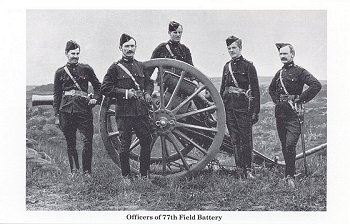 Officers of the 77th Field Battery
The group in this photograph are the officers of the 77th Field Battery which was serving in South Africa.
The Battery Commander, Major E. M. Percival DSO is on the right. He won his award of the Distinguished Service Order in action in South Africa. This gallantry award was instituted in 1886. The officers are seen here wearing undress uniforms with blue cloth folding field caps, blue serge jackets with scarlet collars and blue riding breeches with a red stripe up the side.
Artillery pattern officers swords are slung from Sam Browne belts. General Sam Browne had lost his left arm and could not easily draw his sword from the scabbard. He therefore converted some of his horse harness to suspend the sword on short straps, added a shoulder strap over the right shoulder and for good measure created a place for the pistol holster on the waist belt.
This practical design was adopted by the army and is still in use today.
This text was kindly researched and prepared by Alan Harfield (FR Hist S)
Copyright © 1989 Published by Geoff White Ltd.