ARTILLERY POSTCARDS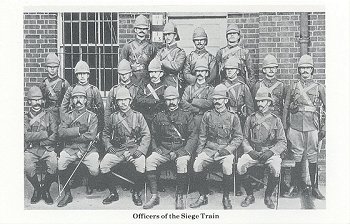 Officers of the Siege Train
The siege train was formed from officers and men of the Royal Garrison Artillery for service in South Africa in 1900. The force of about 32 officers and 1,100 men was withdrawn from their normal Royal Garrison duties mainly from Portsmouth, Plymouth, Exeter and Davenport.
The group are wearing the khaki uniform designed for overseas service. The pith or solar helmets have khaki covers with leather chin straps. They are wound round with cloth puggaris, which have unit distinguishing flashes attached to the left side.
This text was kindly researched and prepared by Alan Harfield (FR Hist S)
Copyright © 1989 Published by Geoff White Ltd.