CAVALRY REGIMENTS (1) POSTCARDS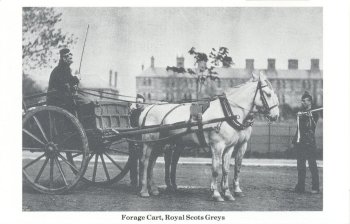 Forage Cart, Royal Scots Greys
The photograph shows the forage cart of the Royal Scots Greys which was part of the regimental transport. The cart drawn by two horses was used as a general purpose vehicle and not just in conjunction with the stables.
It was employed on such diverse duties as the collection of stores from local depots, delivery and collection of baggage from railway stations etc. the driver was a member of the regiment and came under the control of the regimental transport sergeant.
He is seen here wearing a pill box cap with the distinctive white Vandyke band around it. The cart, belonging to A Squadron, was like other military transport of 1887, painted in a 'greyish-blue'.
This text was kindly researched and prepared by Alan Harfield (FR Hist S)
Copyright © 1989 Published by Geoff White Ltd.