CAVALRY REGIMENTS (1) POSTCARDS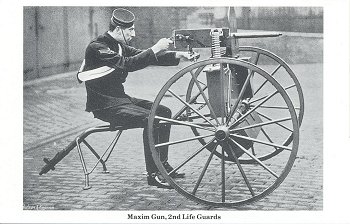 Maxim Gun, 2nd Life Guards
The illustration, which was first published in July 1898, shows the Maxim Gun mounted on the DunDonald Carriage. The Maxim Gun was introduced into service in 1891.
The carriage was the invention of Colonel the Earl of DunDonald who commanded the 2nd Life Guards. The Non-Commissioned Officer is shown in the firing position. When not in action the old carriage was drawn by two horses and had the great disadvantage of being heavy and as a result the inventor designed this light weight carriage which could be drawn by one horse.
This text was kindly researched and prepared by Alan Harfield (FR Hist S)
Copyright © 1989 Published by Geoff White Ltd.