CAVALRY REGIMENTS (1) POSTCARDS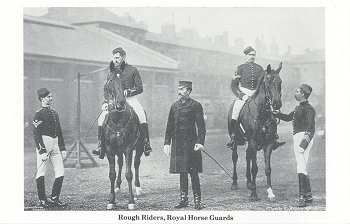 Rough Riders, Royal Horse Guards
The officer in the centre of the photograph is Lieutenant C. J. Ashley, the Riding Master of the Royal Horse Guards. The Riding Master was an officer attached to every cavalry regiment to supervise the instruction of officers and men in equitation and the control of their horses.
The post was open to non-commissioned officers and carried the honorary rank of lieutenant or Captain. The two mounted and two dismounted men are 'rough riders' of the regiment who acted as instructors and assistants to the Riding Master.
This text was kindly researched and prepared by Alan Harfield (FR Hist S)
Copyright © 1989 Published by Geoff White Ltd.