CAVALRY REGIMENTS (1) POSTCARDS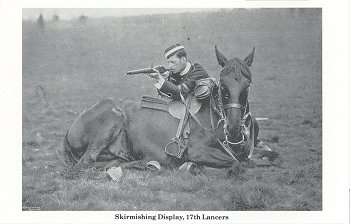 Skirmishing Display, 17th Lancers
The illustration shows a dismounted lancer taking parting part in a skirmishing display. The intention was to teach the cavalry horse to lie down and act as a screen, from which the rider can fire in comparative safety.
This type of drill was used in South Africa and was demonstrated at military displays in the United Kingdom. The photograph, taken in 1896, shows Rough Rider Corporal Long demonstrating the correct position to be adopted. His horse has on the 1890 pattern Universal Steel Arch Saddle.
This text was kindly researched and prepared by Alan Harfield (FR Hist S)
Copyright © 1989 Published by Geoff White Ltd.