CAVALRY REGIMENTS (2) POSTCARDS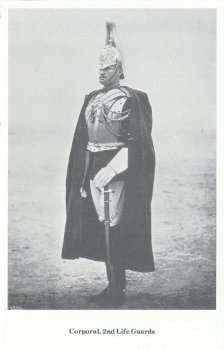 Corporal 2nd Life Guards
The photograph shows a corporal of the Household Cavalry taken in 1986. The NCO was serving with the 2nd Life Guards. He is wearing a white horsehair plumed helmet, scarlet tunic with blue facings, white buckskin pantaloons, and jack boots of stout leather. These have an extension above the knee which originally served as protection against crushing in close order charge. A brightly polished cuirass is worn front and back, over his tunic. This photograph was originally produced in 'The Army and Navy Illustrated' and was drawn to the different points of dress between the 1st Life Guards and the 2nd Life Guards, Which included the distinction of a red cord down the centre of the pouch belt for the 1st Life Guards and a blue cord for the 2nd Life Guard.
This text was kindly researched and prepared by Alan Harfield (FR Hist S)
Copyright © 1989 Published by Geoff White Ltd.