CAVALRY REGIMENTS (2) POSTCARDS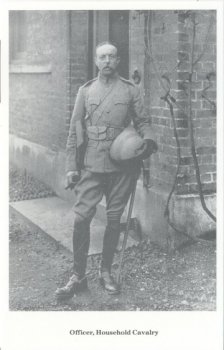 Officer, Household Cavalry
This photograph shows Lieutenant A. D. Neeld of the 2nd Life Guards dressed in the foreign service khaki uniform which was worn at all stations abroad except Canada.
It was cut loosely to allow warm clothing to be worn underneath in cold weather or on active service. On his belt is worn a leather revolver holster and ammunition pouch.
His sword is in a leather covered scabbard. He wears strapped leather leggings and spurs, and carries his Khaki cloth covered pith helmet.
This text was kindly researched and prepared by Alan Harfield (FR Hist S)
Copyright © 1989 Published by Geoff White Ltd.