CAVALRY REGIMENTS (2) POSTCARDS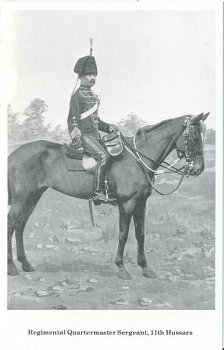 Regimental Quartermaster Sergeant, 11th Hussars
The illustration dated 1898 shows Regimental Quartermaster Sergeant Knowlden of the 11th Prince Albert's Own Hussars in full dress. Note that, as is customary in cavalry regiments, he is wearing a special arm badge above his badge of rank. This consists of the crest of the Prince Consort which was a 'pillar charged with the arms of Saxony, rising out of a 'ducal coronet' crowned with a coronet, all over a motto of 'treu und fest' (Loyal and Steadfast). The Regiment was known as the Cherry Pickers, or Cherubim's, derived from its scarlet overalls, it being the only regiment entitled to wear overalls of that colour.
This text was kindly researched and prepared by Alan Harfield (FR Hist S)
Copyright © 1989 Published by Geoff White Ltd.