CAVALRY REGIMENTS (2) POSTCARDS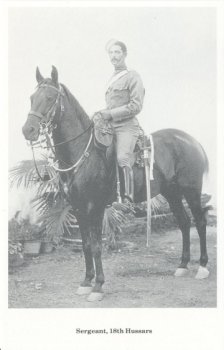 Sergeant 18th Hussars
The illustration shows a Sergeant of the 18th Hussars in undress khaki uniform. The regiments was, in 1898, serving in Lucknow in India.
He is wearing the uniform generally worn by the cavalry for drills and parades during the winter months in the cantonments in India. His sword is the 1890 pattern.
It is fitted to a frog sewn to the horseshoe case. This is strapped to the nearside of the saddle with a long stay going forward to the girth. The Dress uniform of the regiment was blue, with a Busby with a scarlet and white plume and blue Busby bag.
This text was kindly researched and prepared by Alan Harfield (FR Hist S)
Copyright © 1989 Published by Geoff White Ltd.