DRUM HORSE POSTCARDS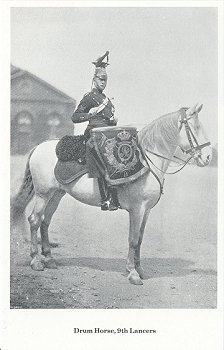 Drum Horse, 9th Lancers
The Drum Horse shown in the photograph was presented to the 9th (or Queen's Royal) Lancers by Her Majesty Queen Victoria, when the regiment returned to England having taken part in the Afghan war. The regiment had seen service in India and had taken part in the battles of Sobron and Chillianwallah and in the Sepoy Mutiny. It was during the mutiny that the regiment acquired the nickname 'The Delhi Spearmen' for their expertise with lances during the siege of Delhi.
The forage for this horse and one shilling a week for the man who looked after it were paid for out of regimental funds.
This text was kindly researched and prepared by Alan Harfield (FR Hist S)
Copyright © 1989 Published by Geoff White Ltd.