DRUM HORSE POSTCARDS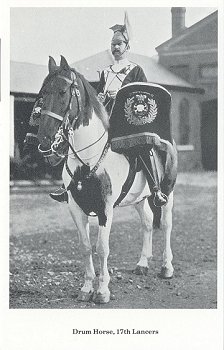 Drum Horse, 17th Lancers
The Drum Horse of the 17th Lancers (Duke of Cambridge's Own) was taken over from the 11th Hussars in 1890 when the 17th Lancers returned from duty in India.
The drummer, shown in this illustration is Private Austin, who had served in the regiment for 18 years at the time this photograph was taken in 1896.
The regimental device, the deaths head, and the motto 'or Glory can be seen on the drum banner.
The regiment served throughout the Crimean war and fought at the Alma and Inkerman. It was one of the five regiments that took part in the famous Charge of the Light Brigade.
This text was kindly researched and prepared by Alan Harfield (FR Hist S)
Copyright © 1989 Published by Geoff White Ltd.