FOOT GUARDS POSTCARDS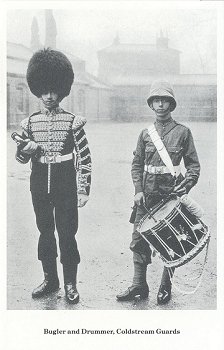 Bugler and Drummer, Coldstream Guards
The illustration shows a bugler of the Coldstream Guards in full dress and a drummer in khaki dress. The bugler is wearing on his scarlet tunic the lace decoration as authorised for wear by drummers and fifers of the Brigade of Guards.
The lace on the front of the tunic is in accordance with the regimental button grouping. He is also wearing black gaiters and is carrying a drummer's sword.
The drummer is in the 'Foreign Service Uniform' which was worn during the war with South Africa. The Khaki tunic has brass regimental buttons. The pith helmet has a khaki cover.
The drum cover was made of blue and white striped ticken (a strong linen) and was carried rolled up and taped to the side of the drum.
This text was kindly researched and prepared by Alan Harfield (FR Hist S)
Copyright © 1989 Published by Geoff White Ltd.