FOOT GUARDS POSTCARDS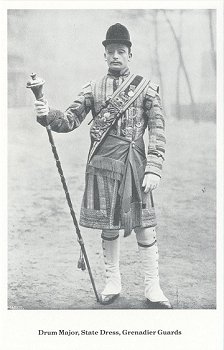 Drum Major, State Dress, Grenadier Guards
The illustration depicts Drum Major G .T. Philip, 1st Battalion Grenadier Guards, wearing State Clothing. The Regiment's grenade badge can be seen on the embroidered sash and again used as a clip to fasten the crimson sash around the waist.
The dress includes white gaiters and garters, covered in gold lace, which are fastened below the knee. This form of dress was discontinued in the army circa 1823, except as the full dress of the drum majors of the Guards.
It is only worn on state occasions when royalty are present. Drum Major enlisted as a drummer boy in 1862 at the age of eleven.
This text was kindly researched and prepared by Alan Harfield (FR Hist S)
Copyright © 1989 Published by Geoff White Ltd.