FOOT GUARDS POSTCARDS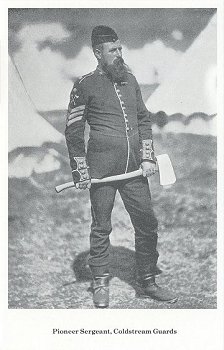 Pioneer Sergeant, Coldstream Guards
Pioneer Sergeant H. Tesh photographed at the camp in 1896 is carrying the pioneer axe. Pioneers were usually enlisted from artisans or skilled workmen and were employed in carrying our general work in barracks or camp.
Traditionally pioneers wore full beards or heavy moustaches and wore the insignia of crossed axes. This insignia was worn over the rank chevrons and, in respect of the Coldstream Guards, an embroidered rose was above the axes.
Pioneer Sergeant Tesh enlisted in August 1882 and saw active service in the Egyptian campaign and at Suakim in 1885. He is wearing the ribbons of the Egyptian Medal and Khedive's Star.
This text was kindly researched and prepared by Alan Harfield (FR Hist S)
Copyright © 1989 Published by Geoff White Ltd.