FOOT GUARDS POSTCARDS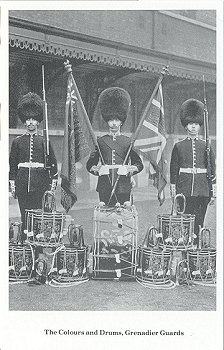 The Colours and Drums, Grenadier Guards
The illustration shows the colours used by the 2nd Battalion Grenadier Guards Circa 1896, with the drums 'piled' in front.
The colour in the right hand of the sergeant (centre figure) is the Queen's colour and in his left hand is the Battalion Regimental Colour.
The Queen's Colour of the 2nd Battalion, is crimson and bears the battle honours of the regiment with the Royal Cypher, surmounted by the Crown in the centre and a grenade below. the union flag is cantoned in the upper corner.
The Battalion Regimental Colour consists of the Union Flag, bearing in the centre one of the thirty company badges.
This text was kindly researched and prepared by Alan Harfield (FR Hist S)
Copyright © 1989 Published by Geoff White Ltd.