SCOTTISH REGIMENTS POSTCARDS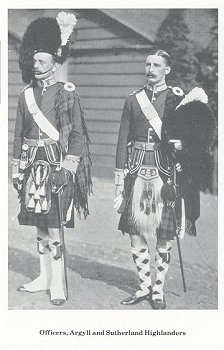 Officers, Argyll and Sutherland Highlanders
The picture shows two officers of the '93rd Highlanders'. The officer is on the left, wearing his feathered bonnet, is a captain which is denoted by a line of gold braid within the lace of his cuff.
He is in full dress and is wearing a badger-skin sporran.
The Lieutenant, on the right is wearing 'Review Order' and has the authorised regimental pattern sporran with an engraved gilt and enamel top and with a boar's head and scroll, the coronet with Cypher and cast in the centre. Five small gold bullion tassels with netted head are suspended by looped gold cords.
This text was kindly researched and prepared by Alan Harfield (FR Hist S)
Copyright © 1989 Published by Geoff White Ltd.