SCOTTISH REGIMENTS POSTCARDS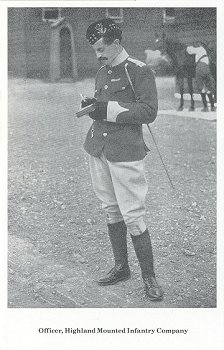 Officer of the Highland Mounted Infantry Company
Captain George Russell Tod is shown wearing the uniform of an officer of the Mounted Infantry serving on the Home establishment.
In his Glengarry he is wearing the badge of his parent regiment the Seaforth Highlanders (Ross-shire Buffs, the Duke of Albany's) which is a stag's head, with the coronet and cypher of HRH The Duke of Albany, and below a scroll inscribed 'Cuidich'n Righ'. His red jacket is faced with buff. His breeches are made from Bedford cord and he wears khaki woollen putties. Captain Tod is wearing the ribbons of the Egyptian Medal and the Khedive's Star for his service in the Egypt campaign.
At the time the photograph was taken, in 1896, he had been appointed to command the Highland Company of Mounted Infantry to be sent to the Cape.
This text was kindly researched and prepared by Alan Harfield (FR Hist S)
Copyright © 1989 Published by Geoff White Ltd.