SCOTTISH REGIMENTS POSTCARDS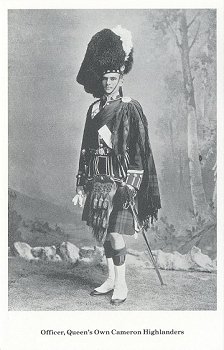 Officer of the Queen's Own Cameron Highlanders
The illustration shows Lieutenant G.C.M. Sorel-Cameron in full dress uniform. His ostrich feather bonnet is constructed on a wire frame and is about 11 inches high. It has five feather tails on the left side and a white vulture plume on the right over the regimental badge. His scarlet doublet has blue facings. His kilt is of Cameron tartan and he has a horse-hair sporran with six golden bullion tassels, His sword is a claymore with a 32 inch long blade and steel basket hilt lined with scarlet cloth. The regiment was first raised on 17th August 1793 by Colonel Alan Campbell, or Erracht, Inverness from the men of the Cameron name or clan.
This text was kindly researched and prepared by Alan Harfield (FR Hist S)
Copyright © 1989 Published by Geoff White Ltd.