SCOTTISH REGIMENTS POSTCARDS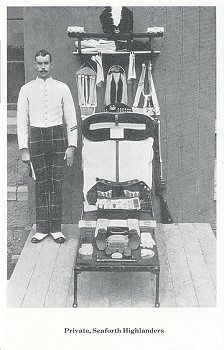 Private, Seaforth Highlanders
The private in the Seaforth Highlander is shown in the undress uniform of white shell jacket and trews and is wearing two good-conduct medals denoting that he has over six years service with good conduct. The kit is laid out as for a 'barrack room inspection' in accordance with the regimental kit layout. The layout with the clothing and equipment in a set pattern served the purpose that it permitted the inspecting officer to check easily that the soldier was still in possession of all his issued kit, equipment and necessaries and had not lost, or sold any item and that they were all still serviceable.
This text was kindly researched and prepared by Alan Harfield (FR Hist S)
Copyright © 1989 Published by Geoff White Ltd.