SCOTTISH REGIMENTS POSTCARDS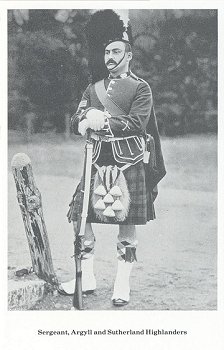 Sergeant, Argyll and Sutherland Highlanders
The illustration shows a sergeant of the Princess Louise's (Argyll and Sutherland) Highlanders in full dress.
The regiment, formally the 93rd Highlanders, served with distinction in the Peninsula war, and the Crimea war where it saw action at Alma and Balaclava. The Sergeant is wearing the bonnet, with its heavy tails and feathers, which almost hide the distinctive red and white dicing of the regiment.
Other dress distinctions are the sporran, which has six bells and tassels, and the regimental diced hose which was worn with scarlet garter flashes.
This text was kindly researched and prepared by Alan Harfield (FR Hist S)
Copyright © 1989 Published by Geoff White Ltd.