A R QUINTON PICTURE POSTCARDS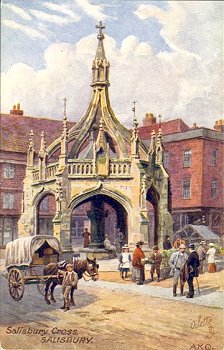 Series title: "Old Market Halls and Crosses" Postcard No. 9913
Title: Salisbury Cross, Salisbury
Publisher: Raphael Tuck & Sons'
Printed colour postcard with TUCK'S POST CARD
Carte Postale Postkarte divided back
Code: PC-TUCK-9913f ~ Grade: B+ ~ Price: £7.50 ~ SOLD
The Poultry Cross, Salisbury, formerly styled the
Yarn Market, as distinguished from Barnard's Cross and
the Cheese Market, independent of its intrinsic beauty,
has been made an object of considerable dispute among
antiquaries with respect to its origin and identity. The
building is of hexagonal shape, and is supported by buttress
piers at the angles, flattened ogee arches, and over
each arch is a niche. There is a column in the centre, the
capital of which is formed by six demi-angels with shields
facing the six arches.
© Raphael Tuck & Sons'