S. ENDACOTT PICTURE PICTURES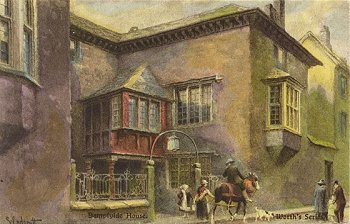 Title: Bampfylde House.
Publisher: Worth's Series
Printed colour postcard with divided POST CARD back
Code: PC-ENDACOTT-0001 ~ Grade: B+ ~ Price: £3.50
Card measures 139mm x 88mm
Text on reverse of card:
Bampfylde House, Exeter. The old town residence of the Poltimore family - containing oak panelled rooms, fine old stained glass and old leaded trough.
Published at Worth's Elizabethan Gallery, facing Exeter Cathedral, where a large selection of Water Colours of the West Country can be obtained.