.
PAGEANT PICTURE POSTCARDS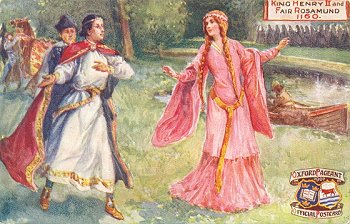 Title: King Henry II and Fair Rosamond 1160
Publisher: Raphael Tuck & Sons' "OILETTE" Postcard 9516. "Oxford Pageant" Ser. I.
Direct from the original picture by J. Finnemore R.I.
Published under the authority of the Pageant Committee.
Printed colour postcard with POST CARD divided back in brown
Order Code: PC-PAGEANT-0005 ~ Grade: B ~ Price: £2.50 ~ SOLD
Card measures 139mm x 88mm
Printed text on reverse reads:
Fair Rosamond. This beautiful and accomplished lady, the beloved of Henry II., is supposed to have been murdered by Queen Eleanor in a fit of jealousy. History, however, contradicts this romantic story, and asserts that after her parting with the King at Medley Weir, she retired to the Convent at Godstow, where she subsequently died a natural death, her body being interred before the alter.
Ordering / Secure Server
~ ~ ~