S. ENDACOTT PICTURE PICTURES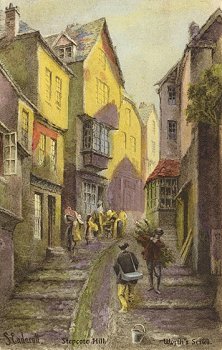 Title: Stepcote Hill.
Publisher: Worth's Series
Printed colour postcard with divided POST CARD back
Code: PC-ENDACOTT-0005 ~ Grade: B+ ~ Price: £3.50 ~ SOLD
Card measures 88mm x 139mm
Text on reverse of card:
Stepcote Hill. Exeter. Stepcote Hill - the Clovelly Street of Exeter, adjoining the Church of St. Mary steps - once the aristocratic neighbourhood of Exeter, close by the old West Gate.
Published at Worth's Elizabethan Gallery, facing Exeter Cathedral, where a large selection of Water Colours of the West Country can be obtained.